What is UID Number UAE and All You Need to Know! – Have you ever wondered what this unique identifier is all about and why it holds such significance?
Well, you're in the right place because we're here to unravel the mystery and guide you through the ins and outs of UID numbers in the UAE.
So, let's dive in and discover what this fascinating identification system is all about!
When it comes to identification, the UID number takes center stage in the United Arab Emirates. It's a special code that sets you apart and helps streamline various processes.
Whether you're a resident or a citizen, this number plays a vital role in your everyday life. From government transactions to official documentation, the UID number is your ticket to hassle-free experiences in the UAE.
Understanding UID Number in UAE
Now that we've piqued your curiosity, let's delve deeper into the world of UID numbers and explore their significance in the UAE.
At its core, a UID number is a unique identifier assigned to individuals that distinguishes them from others. It acts as a digital fingerprint, connecting you to various government systems and databases.
This special number helps authorities identify and authenticate individuals, ensuring smooth interactions and accurate record-keeping.
The UID number holds a plethora of benefits for individuals in the UAE. It simplifies bureaucratic processes, making life easier and more convenient.
From accessing government services to opening bank accounts, having a UID number is like having a golden key that unlocks countless opportunities.
This magical code, also known as the Unified ID number, forms the foundation of the UAE's robust identification system, seamlessly linking individuals to their official records.
What is UID Number UAE and Its Purpose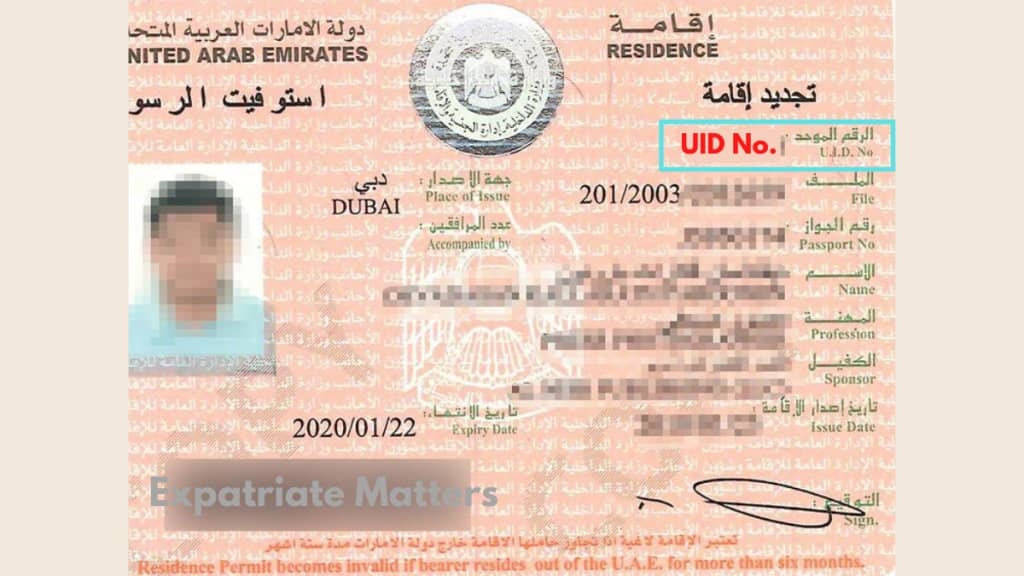 Let's take a closer look at what exactly the UID number UAE entails and the purpose it serves. The UID number is a unique combination of digits assigned to each individual in the UAE.
It acts as a central identifier, encompassing vital information such as your name, date of birth, nationality, and other pertinent details. This comprehensive code is closely linked to your Emirates ID and UAE identification number, further solidifying your identity within the country.
The UID number holds immense importance in the UAE, enabling efficient service delivery and safeguarding against identity fraud.
With this number, you can access a wide range of government services, from healthcare to education, with ease and precision.
It ensures accuracy in record-keeping, simplifies administrative procedures, and fosters a secure environment for individuals and institutions alike.
The UID number is your personal gateway to a world of opportunities and seamless experiences throughout the UAE.
How to Find Unified Number UAE
Now that you understand the significance of the UID number in UAE, you might be wondering where to find this essential piece of information.
Don't worry; we've got you covered! Finding your UID number in the UAE is a relatively straightforward process.
To begin, you can locate your Unified ID number on your Emirates ID card. It's a unique set of digits printed on the front of your card, right below your name and photo. This number serves as your key identifier in various official transactions.
If you're unable to access your Emirates ID card or need to retrieve your UID number through other means, you can visit the official website of the Federal Authority for Identity and Citizenship (ICA).
They provide an online portal where you can enter your personal details and retrieve your UID number. It's a quick and convenient way to access this vital information, ensuring you have it at your fingertips whenever needed.
How to Get Unified Identity Number
So, you're eager to get your hands on that coveted UID number?
We've got you covered! If you haven't found your UID number online or if you're just starting out and need to obtain one, the General Directorate of Residency and Foreigners Affairs (GDRFA) is here to save the day.
They have two convenient locations where you can visit to get your UID number sorted out.
First up, we have a branch in DXB Airport Terminal 3. Yes, you read that right! While you're catching flights and exploring the world, you can also take a pit stop and get your UID number at the same time.
Talk about convenience! If that doesn't work for you, don't fret. The head office in Al Jafiliya, Bur Dubai, is another fantastic option.
Simply visit their website at https://www.gdrfad.gov.ae/en/form/contact-us for more information and directions. They will happily issue a shiny new UID number just for you!
Read : UAE Phone Number Example and Format Guide
How to Check UID Number Online in UAE
In this digital age, online convenience is at our fingertips, and checking your UID number is no exception. The UAE government has embraced technology to make life easier for its residents.
First, fire up your web browser and visit the official website at www.gdrfad.gov.ae.
This is where the magic happens! Once you're on the homepage, look for the section labeled "E-services." It's like a virtual treasure trove of convenient online services just waiting to be explored.
Click on this section to unveil a range of options tailored to your needs.
Among the options displayed, keep your eyes peeled for "Find my UID." This is the gateway to discovering your unique UID number.
Give it a click, and watch as the virtual curtains are drawn, revealing a unified number inquiry service page.
Here, you'll be prompted to enter some vital information to unlock the door to your UID number.
Get ready to fill in your passport number, nationality, date of birth, and gender.
Think of it as sharing a secret handshake with the online system.
Once you've inputted all the necessary personal details, take a deep breath and hit that glorious "Submit" button.
Your heart may skip a beat in anticipation, but fear not, for in just a few moments, the veil will be lifted, and your UID number in UAE will be unveiled before your very eyes.
It's like opening a treasure chest to discover the golden key that unlocks a world of possibilities!
Read : What is a Good Credit Score in UAE
Lost UID Number: What to Do
Losing your UID number can be a cause for concern, but fear not!
There are steps you can take to retrieve or recover it.
If you've misplaced or lost your Emirates ID card, the first course of action is to report the loss to the relevant authorities.
Contact the Federal Authority for Identity and Citizenship (ICA) or visit their service centers to report the incident and seek guidance on retrieving your UID number.
In some cases, you may need to go through a reissuance process to obtain a new UID card.
This process typically involves providing the necessary documentation, such as your passport, proof of residency, and a request for a new UID card.
The authorities will guide you through the specific requirements and steps to ensure a smooth resolution.
Benefits of the unified identity number (UID)
Now that you've got your hands on that precious UID number, let's talk about the perks it brings to the table. Think of it as a magical key that unlocks a world of convenience and possibilities.
With your UID number in hand, you're well-equipped to apply for a resident visa hassle-free. It's your ticket to becoming an official resident of the UAE!
But wait, there's more! Your UID number also plays a crucial role in the application process for your Emirates ID.
This essential identification card is your gateway to various services, from banking to government programs. So, make sure to keep that UID number close by and let it work its magic in simplifying your life.
In the vast sea of the immigration system, your UID number acts as a guiding star, ensuring that you're recognized and accounted for. It's like having your own VIP pass to smooth transactions and effortless record-keeping.
So, embrace the power of your UID number and let it pave the way for seamless experiences as you navigate life in the beautiful UAE.
Read : How to Check Travel Ban in UAE
Conclusion
Congratulations! You're now well-versed in the world of UID number in the UAE.
These unique identifiers are the key to unlocking a myriad of opportunities and seamless experiences within the country.
From understanding the concept of the UID number UAE to finding and checking it online, you now possess the knowledge to navigate the UID system with confidence.
Always remember the importance of your UID number and its role in various governmental transactions. It's your personal identifier, connecting you to essential services and ensuring accurate record-keeping.
So, embrace your UID number UAE and utilize it to its fullest potential. Enjoy the convenience, security, and peace of mind that come with being a part of the UAE's robust identification system.